LMC South Central dealers recently gathered for an engaging business event at the historic Graceland estate, creating an environment for knowledge sharing, relationship building, and strategic networking.
The event kicked off with a warm LMC welcome reception hosted poolside at the Guest House at Graceland, setting the tone for a collaborative meeting.
The next morning began with a two-hour information session, showcasing the expertise of each of LMC's purchasing divisions. Followed by an exciting new addition to this annual event: the supplier showcase. Key South Central supplier partners attended discussions at tabletop displays for interactive networking and Q&A, allowing attendees to explore potential strategic partnerships and innovative ideas.
Overflowing with fresh insights and promising connections, the group embarked on a tour of the iconic Graceland mansion, which included an exploration of the home Elvis Presley cherished, as well as the renowned entertainment complex that now houses his remarkable legacy. A quick change of attire set the stage for an unforgettable dinner hosted inside the Presley Motors Automobile Museum.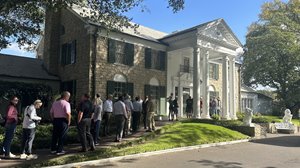 Sunday saw the anticipation build as dealers gathered after breakfast for the weekend's most awaited event: the dealer roundtable discussion. Moderated by Scott Lunde, South Central Regional Manager, and Paul Thorne, VP of Business Development, the roundtable delved into a diverse range of topics important to the LBM industry.
Scott Lunde noted, "We encouraged LMC dealers to promote best practices and ideas around several different topics. Conversations also noted the impacts of these topics in terms of their operations. It was great to hear from a variety of voices and to see the collaboration among the dealers." They also discussed crucial factors such as market conditions for 2024 and employee retention. The dealers engaged in insightful conversations, emerging with fresh perspectives and a deeper understanding of the industry, thanks to their interactions with peers.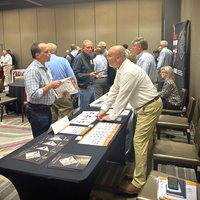 Summarizing the South Central Regional, Lunde said "It was great for our dealers to get updates from the purchasing divisions, connect with key suppliers, and share experiences with fellow LMC Dealers. It was an invaluable experience."
The LMC South Central Dealers' recent gathering paid homage to the King of Rock 'n' Roll but also served as a testament to LMC's commitment to fostering professional growth, knowledge sharing, and collaborative relationships within the South-Central region.

Thank you to our South-Central dealers, LMC team, and suppliers for another incredible Annual LMC South Central Regional.