Since 1908, the Tague family has provided a staple service to greater Philadelphia and the wider Pennsylvania building industry by remaining a preeminent source for quality building products at the right price, coupled with superior customer service.

A Philadelphia institution, Tague Lumber is a business that spans five generations of the Tague family. Founded in 1908 by James E. Tague, the business passed to his wife Mary, then to his son, Joseph and ultimately to Vincent J. Tague Sr.
Vincent Sr. continues to work every day along with his son, Vincent Jr., CEO and grandson, Vince III, GM of their Philadelphia location.
Tague Lumber became an LMC member in 1992 when Vince Tague Sr. joined the cooperative after a referral from a long-time member, Peter Lumber, who joined in 1952.
The team at Tague Lumber has a 115-year tradition of offering reliable access to top-quality products at the right price. And their ability to carry on this legacy has been made easier by joining LMC.
"LMC has helped us grow our business by keeping us competitive on commodities and making many categories of special orders available at costs that allow us to source at higher margins," says Jerry Kapp, President of Tague Lumber.
Purchasing power is only the beginning
Joining a co-operative always offers the benefit of group purchasing power, and there's no doubt that Tague Lumber has seen its access to products at fair prices grow after over three decades of LMC membership.
"Being a member of LMC has allowed us to increase our purchasing power," Pat Macaulay, buyer at Tague Lumber, says. "This gives us [Tague Lumber] the ability to purchase the best products competitively, which in turn gives us the ability to increase profitability."
At the same time, working with LMC means more than cost-effective pricing. It means access to LMC's expert team to make the most of the opportunities offered by the co-operative model. As buyer Pat Macaulay says, "LMC's most valuable asset is their employees, who do a fantastic job."
LMC staff are LMB industry experts, but more importantly, they're experts in our dealers' needs. The results for individual dealer's competitiveness are staggering.
"The staff has been able to help me quote and land opportunities outside of our usual realm of business," Mike Fittipaldi, buyer at Tague Lumber, says. "When we can help our customers source "unusual" products using LMC support, those customers will build faith in our abilities to source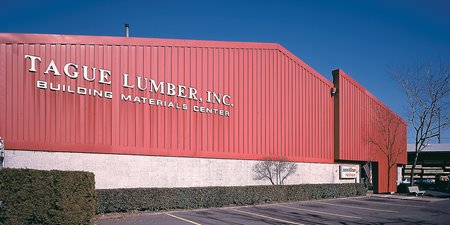 anything for them."
Tague Lumber Director of Purchasing Kevin Potter wholeheartedly agrees and sees LMC help not only with day-to-day but with the entire purchasing strategy.
"The traders at LMC are excellent, and I believe are their most important asset," Kevin says. When you combine purchasing power with programs like the "Lumber Futures" program, dealers like Tague Lumber can truly compete for framing packages and specialties. Plus, with the Mill Direct programs giving dealers control over the quality, it's possible to avoid the unknowns that come with distribution, which leads to fewer call-backs and more repeat business."
A network of support for every dealer
The support network LMC offers doesn't begin and end with purchasing. Tague Lumber also participates in several of LMC's (delete other) dealer programs, including the marketing support. LMC helps dealers unlock the power of marketing but with a co-operative twist. Katie Connor, Director of Advertising and Marketing at Tague Lumber says, "The LMC Marketing team is friendly and supportive; they're always willing to help. Enrolling in the automatic co-op rebate program at LMC is as easy as clicking a button."
It's not just the LMC team that Tague Lumber relies on. The team at Tague Lumber describes the quality of LMC's dealer members as "invaluable" and gives the whole team at Tague confidence in their direction and decisions.
"You can discuss the many obstacles and hardships we all face and share potential solutions to problems. All of the members have been incredibly helpful when I have called upon them for information or advice," says President Jerry Kapp.
After 115 years, an eye on the future
After over a century of business in Philadelphia, Tague Lumber has experienced and survived many economic downturns and market challenges. And for the last three decades, they're proud to have continued their work as a member of LMC.
Tague's status from dealer member has grown significantly with their involvement at LMC. Vincent Tague Jr. has served on several LMC committees and the LMC Board of Directors.
The committee work and ultimately my time spent on the Board of Directors has made a tremendous impact on me and the way I think and ultimately enabled my family to drive and shape our company," Vincent says.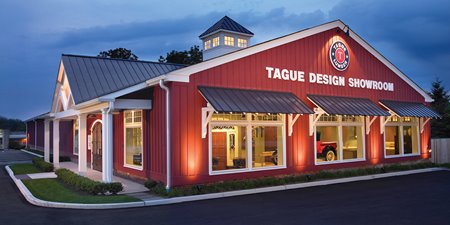 "The exposure to fellow LMC Dealers, and getting to see and hear how they think, what they are doing and how they are reacting to industry trends has instilled confidence in me and my leadership team. From these relationships we have gained the knowledge to make ourse lves better! In turn we are more than willing to give back and to share with LMC dealers.
Combined, these are what makes LMC Special and better than other types of cooperatives."
Embrace your Legacy: Join Tague Lumber and LMC on the Journey to Excellence Today!
Visit www.lmcdifference.com today!