Randall Lumber & Hardware recently celebrated their 100th anniversary. The family-owned business welcomed vendors with new and updated products, and customers who gathered for food, live music, and the camaraderie that naturally evolves from 100 years of doing business in a small town.
Elisha Randall no doubt kept an eye on the day's activities from his heavenly perch. After all, one hundred years ago, he established a small-town lumberyard which has evolved to the successful store that today serves customers and contractors in two locations.
Unlike great swaths of our homogenized nation, small town communities, including Taos, continue to be enriched with independent and family-owned and -operated stores. Locally-owned stores are often viewed with nostalgia in much of our country, but here, local contractors rely on the work ethic instilled by Randall all those years ago.
Randall Lumber & Hardware has long specialized in supporting the needs of local contractors with quality building materials and reliable service. A contractor cannot be successful without having lumber and building supplies on hand when it is expected to be there – and the family-owned business understands the value of consistent service.

Reliable, dependable and high-quality
"When we say a delivery is going to be there, it will be there and our contractors trust that," explained Paula Randall Ervin. "They rely on us to do what we say we're going to do, which is why we have been successful." Ervin is the current president of operations and her two siblings along with extended family are all active in the business.
"Our contractors have depended on us for decades, but there are also a lot of individual customers who rely on us with their building projects," explained Ervin. Indeed, it is one thing for a homeowner to decide to construct an outbuilding or update a kitchen, but understanding the nuances of the materials required and navigating the permitting process can be overwhelming.
What may seem like a fun weekend project can require materials and techniques that are not intuitive and could quickly result in frustration and multiple trips to the store. The knowledgeable employees at Randall Lumber & Hardware understand that no one wants a fun project to turn into an exercise in frustration.
"We all know that a simple tile project requires products that are easily overlooked or not considered and our employees take the initiative with customers to make sure they purchase everything they need," noted Ervin. "Our employees set our customers up for success. We want our customers to have a good experience regardless of the size and scope of the project."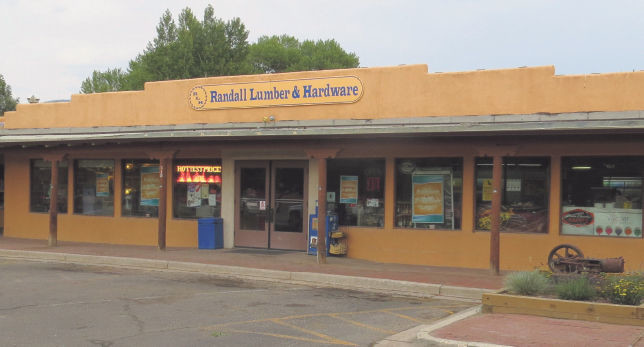 Family-oriented success from the inside out
The employees are not only knowledgeable but they are also experienced. The average length of service for a Randall Lumber & Hardware employee is 10 years. Some employees have been with the family-owned business for 30 years – virtually unheard of in today's environment.
Perhaps one of the more unique, if not downright special, things about Randall Lumber & Hardware is the fact that the family-oriented operation is not limited to Randall family members.
One employee recently retired from Randall Lumber & Hardware after working at the company for 56 years. He started working for Elisha Randall and when he retired, five generations of his family has worked there.
"When we are hiring, we have always asked our employees if they know of anyone who would be a good fit for a particular position. We have employees who have referred their children and other family members to us and it has worked out great for all of us," noted Ervin.
Randall Lumber & Hardware serves customers and contractors from two locations. The main store is the hub for lumber and building supplies including plumbing, electrical and paint. The north side location in El Prado, Randall Lumber Ranch & Feed, is a secondary more convenient location for customers who drive in from further points and have fencing materials and agricultural products for livestock and domestic animals.

Randall Lumber & Hardware has been an LMC Member since 2008.
Read more from
Taos News
and
LBM Journal
.