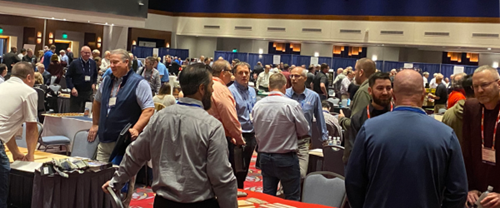 The curtains have officially closed on the highly anticipated 2023 LMC EXPO, a two-day gathering of LMC Dealers and leading mills and manufacturers in the bustling city of Philadelphia. It was a whirlwind of innovation, insights, and strategic discussions as LMC dealers from across the nation converged to map out a successful path for 2024.
When asked about the atmosphere at the LMC Expo, Sean Tighe, VP of Purchasing at LMC remarked "I had a supplier say to me "this is what I love about LMC" I knew instantly what she meant the energy, the attendance and the continuing of rebuilding a face-to-face meetings, left this expo with an energy towards relationships and an outlook for 2024 that was palpable."
The event commenced with a dedicated educational and networking track tailored to LMC Component Alliance members. Followed by an inaugural Component Alliance 'night on the town' event.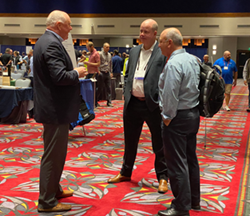 The second day was marked by presentations from key suppliers, sharing their forecasts for the market in 2024. Following this, the LMC Futures team delved deep into the new futures contracts, illuminating the array of program benefits available to LMC dealers.
On the grand finale, LMC President & CEO, Paul Ryan, took center stage, delivering a comprehensive LMC update. He introduced the visionary breakfast speaker, Tim Constello, Principal Technologist at "Built for the Future" and founder of BHI, the homebuilding industry's cutting-edge technology consortium. Mr. Constello shared a thought-provoking outlook on the future, setting the stage for LMC dealers to embrace transformative opportunities.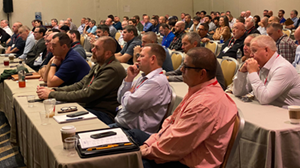 "The Expo gives me a chance to connect with fellow dealers, have important conversations with LMC traders, and follow-up with long standing friends to see how business is doing. It's a must to attend" said Daryl Lundberg of Northwoods Lumber Co.
As we close the 2023 LMC EXPO, one thing is clear: the LMC community is well-prepared to face the challenges and opportunities that lie ahead in 2024. With their finger on the industry's pulse, the knowledge gained from this event will undoubtedly shape their journey to success.

Thank you to our Dealers and our supplier partners for making the Expo a succes!