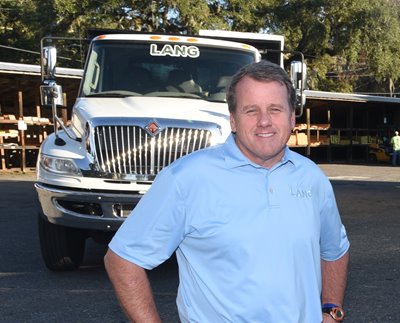 LMC congratulates
Lang Building Supply of
Brunswick, GA on being named
2020 Dealer Of The Year by LBM Journal
. Lang is the winner for the category of sales from $10 million -$50 million dollars. Lang has been an LMC dealer since 1995.
Hubert and John Lang are 4
th
generation owners and Blase Grady is newest partner and the current President and CEO. Lang Building Supply has supplied the Brunswick area for 115 years, operating from its current location since 1905.
LBM Journal's 2020 Dealer of the Year Awards recognizes four Lumber and Building Material companies of different sizes that epitomize the entrepreneurial spirit. They describe a Dealer of the Year as a company in which leadership excels at identifying underserved—or emerging—markets, satisfying customers, and constantly working to grow and improve business. The common thread in these companies is their fierce commitment to finding ever better ways to serve their customers and their communities.
Lang Building Supply has been owned and operated by four generations of the Lang family. In 2015, when Hubert Lang III decided to retire, he looked outside the company for future leadership, that's when President and CEO Blase Grady entered the picture. He was recruited from the Atlanta area down to the Golden Isles and lives on St. Simons Island. Grady has spent more than 40 years in the building material supply business.
Grady recently said "This is the third major award the company has received in the last 9 months. Last summer the Brunswick-Golden Isles Chamber of Commerce named Lang as their 2019 Small Business of the Year. In January 2020 the Golden Isles Development Authority awarded Lang with their Storytelling Marketing Award and now to be named 2020 LBM Dealer of the Year has capped off an amazing period in our company's history."
"I am proud of the team of employees we have built and the growth this business has achieved over the past few years. Great service, quality products and competitive pricing is what we do." Grady added.
CLICK HERE
to read the full article from LBM Journal.
Visit
Lang Building Supply's
website.