The LMC Dealer and Supplier community met in Charlotte, NC from March 8th through the 10th for the 2023 LMC Annual. Over three days, LMC Dealers networked with the biggest names in the LBM industry, made purchases for the upcoming peak building season, participated in educational sessions, and tackled the shared problems facing the industry in the future.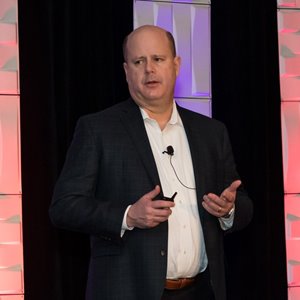 Kicking off the event with his welcome note, LMC President & CEO Paul Ryan reported stable growth for LMC in 2022 with $7.8 billion in purchases, despite deflation in wood products. He also welcomed the addition of twenty-five new dealers to the LMC network in 2022. Following Ryan's speech was the keynote and best-selling author Brant Menswar. Menswar spoke to the audience on a subject well-aligned to the LMC ethos: building a resilient, adaptable, and values-based culture.
New products remained a key part of the LMC Annual in Charlotte with members learning about the new products that are available and voting for the best of the best. This year's winner of the best new product was
AdvanTech X-Factor Subflooring from Huber Engineered Woods
, second place was
Generac's Portable Power Station
, and third place was
Onward's EVO Sliding Barndoor System
.

Paul Ryan with 1st, 2nd, & 3rd Prize Winners
Featured In the exhibit hall was the ModernView® Pavilion, a showcase of the LMC private label window, doors, and cabinet programs. A new user-friendly website, with visualizer was introduced in the pavilion as well. In addition, the Huber "Prove It Tour" Trailer appeared on the show floor, providing attendees with the opportunity to engage with Huber product experts on the latest innovative products.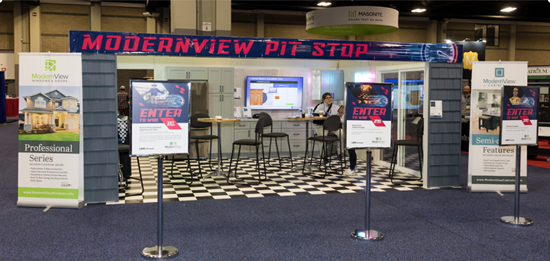 ModernView Pavillion Pit Stop
Dealers, Exhibitors, and LMC staff also raced to Charlotte's legendary NASCAR Hall of Fame for a big party to top off the event. Attendees tested their skills in the race car simulators and explored hands-on exhibits while enjoying relaxed time with the wider LMC community. The LMC Annual would not be complete without "The King" himself, Richard Petty. Petty detailed incredible stories from his 35-year career, afterwards welcoming attendees on stage for a photo opportunity.
Senior Vice President of Purchasing, Sean Tighe, remarked "This year's Annual was a tremendous success. Networking and connecting with Dealers is a critical component of ensuring they have a valuable year ahead with the tools and resources needed to thrive. The opportunity to connect in-person with the LMC network and maintain our relationships is an exceptional experience."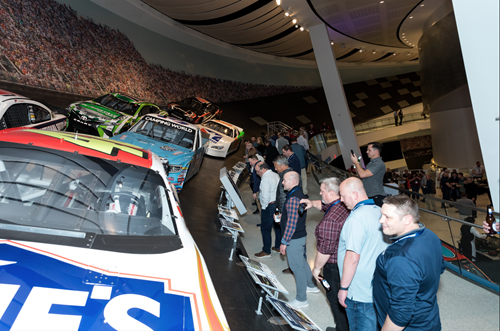 LMC Annual Attendees Enjoy the NASCAR Hall of Fame

Paul Ryan, President & CEO of LMC remarked "The Annual provides an unparalleled opportunity for LMC Dealers to forge connections with our suppliers and fellow industry leaders. We recognize that facilitating this exchange of ideas and opportunities is vital, and we are honoured to be able to offer exclusive access to purchasing deals that would not be possible without the commitment of our suppliers. Our primary focus remains on fostering meaningful networking and collaboration between Dealers and Suppliers alike."

LMC, with over 88 years of experience, continues to lead the lumber and building materials (LBM) industry by boasting the largest forest products trading floor, offering over 1,000 direct supplier programs, and maintaining key distributor relationships. Additionally, LMC is known for consistently being the most efficient in the industry. Through its member network, LMC represents a combined retail sales value exceeding $28 billion.

The 2024 LMC Annual will take place in Houston, TX, March 4-6, 2024.
Thank you to the entire LMC Network who came to Charlotte. Your support is greatly appreciated.