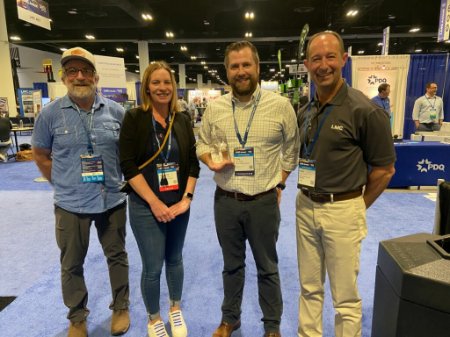 Carl's Building Supply was recognized for 75 years on the show floor. Pictured with LMC Regional Manager Paul Thorne
For the first time in two years, the LMC Network of dealers, suppliers, and staff met in person for the 2022 LMC Annual from March 23
rd
to March 25
th
in Tampa, FL. LMC dealers attended high level professional education seminars, took advantage of show specials, and discovered new products at what attendees call the "Super Bowl" of LBM events.
"The LMC Annual is one of the top events in the LBM industry where thought leaders convene for the best market insight, purchasing opportunities, and networking," said Sean Tighe, LMC Senior Vice President of Purchasing. "Most importantly for the industry, the strong purchasing results indicate a positive market outlook for the rest of the year."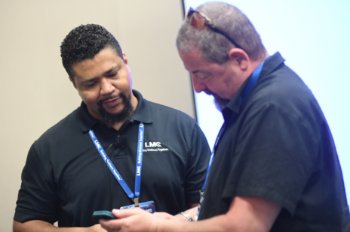 LMC Web Developer Kenny Gilyard answers a question during his educational presentation
Over the course of three days, dealers met with key supplier partners and the biggest names in the LBM industry to learn about new products and make purchases to prepare for prime building season. The LMC team was also on hand to help build new relationships and offer expert insight into the state of the market.
"We take great pride in the relationships that we've built within the LBM industry," said LMC President & CEO Paul Ryan. "While it is important to provide our dealers with great purchasing opportunities, the LMC Annual also allows us to reconnect in person and continue building the foundation to meaningful and lasting relationships within our network."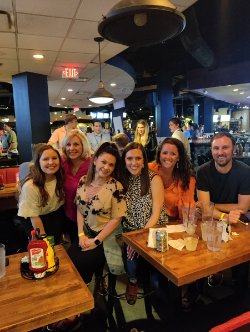 21st Century Leaders networked at Splittsville
Professional education seminars were led by members of the LMC team and key supplier partners such as ModernView, Epicor, and Kenzai USA, to name a few. Additional highlights included NFL MVP and Super Bowl Champion Joe Theismann as the keynote speaker, the LMC Party - "LMC Rocks at Raymond James Stadium," held at the home of the Tampa Bay Buccaneers, and the 21
st
Century Leaders Night Out at Splitsville that hosted the top young leaders in the LBM industry.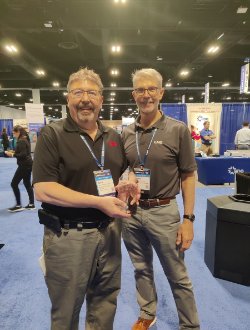 McCray Lumber was congratulated for 75 years in business. Pictured with LMC Regional Manager Warren Schuckies
"This show is about partnership and it's a great partnership to have with suppliers. It's wonderful because we are also meeting our peers and we're able to talk about their same issues, problems, or solutions," said Steve Siemieniewski, Purchasing Director for McCray Lumber and Millwork in Overland Park, KS who was also recognized by LMC for their 75
th
anniversary on the show floor.
Ryan also spoke on separate occasions at the LMC Update Breakfast and the Stockholders Meeting about the state of the industry, to supply and labor challenges, to an outlook in 2022 with sentim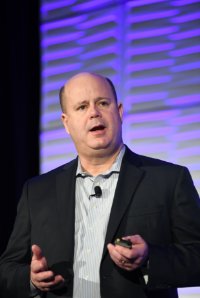 ent remaining largely positive for the foreseeable future.
The LMC President & CEO reported on tremendous growth with combined dealer retail sales totaling $25 billion with over 400 members, and $7.9 billion of their purchases through LMC in 2021.
Ryan also took time to recognize the organizations most recent national Dealer of the Year award winners –
Hancock Lumber
(ME) and
Capital Lumber
(WY), along with LMC team members Kelley McFadden and Rachel Hoops for being recognized as a "Top Women in Hardware & Building Supply" by HBS Dealer.
The 2023 LMC Annual will take place at the Charlotte Convention Center in Charlotte, NC, from March 8 to March 10, 2023.