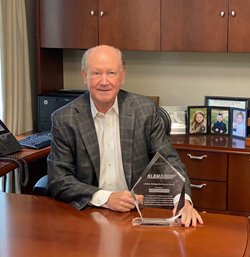 LMC President & CEO John Somerville received the National Lumber and Building Material Dealers Association (NLBMDA) Lifetime Distinguished Service Award "in recognition of dedicated service and outstanding contributions toward advancing the mission and goals of the [NLBMDA] and the entire lumber and building material industry."
Somerville is a former Board and Executive Committee member of the NLBMDA, the national association that represents and works to protect the Lumber and Building Material Dealer in Washington, DC. He has also served as the Chairman and Vice-Chairman of the Manufacturers Service Council, and as a member of the NLBMDA Strategic Sustainability Task Group, Membership Task Force, and Strategic Conference Planning Committee.
"I want to thank Bob Sanford and the NLBMDA for this prestigious award. It has been truly an honor to work with such an important association that represents the best interests of all the Lumber and Building material dealers across the country. The work that the NLBMDA has accomplished has made a real difference for so many of our LBM dealers across the country," said Somerville.
"They ensure our voices are heard on Capitol Hill and tirelessly advocate to protect our industry from excessive regulation and legislation. Each and every dealer needs to have this single front representing our common needs in Washington. I am so proud to have been a part of their history."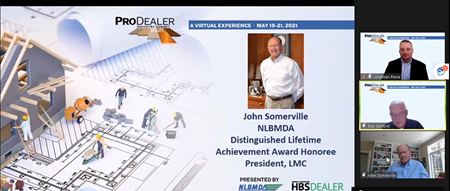 Founded in 1917 with over 6,000 members, Somerville is just the third recipient of the NLBMDA Lifetime Distinguished Service Award. Over an illustrious four decade career, the current LMC President & CEO has left a lasting legacy in the LBM industry. Under his leadership at LMC, the organization saw tremendous growth and was represented in all fifty states and the Bahamas for the first time. The organization also broke multiple purchasing records during his tenure. Before joining LMC, Somerville held several positions at The Dow Chemical Company including Sales Vice President-Building Materials North America.
"John was an invaluable part of the team, with his passion, dedication for our industry and the perspective that he has from his years in it," said NLBMDA Chair Bob Sanford. "I really admire John's thoughtful and thorough approach to matters and his invaluable counsel. John truly and deeply cares about LBM dealers.
Earlier this year, Somerville announced his retirement at the end of June with current LMC Senior Vice President of Finance and Technology Paul Ryan set to assume the role.