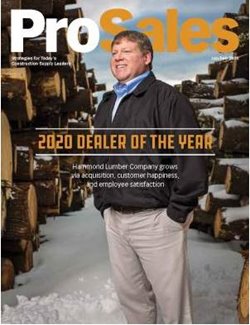 Hammond Lumber an LMC Dealer headquartered in Belgrade, Maine, has found success by balancing acquisitions, customer happiness, and employee satisfaction.
Developing a positive reputation can take years or even decades of hard work. Some of the biggest companies in the world spend millions of dollars to emphasize that they "think different" to their customers. In the LBM world, a bad reputation can be the death knell for any dealer. Relationships between dealers and builders matter, so much so that one poor experience could be the domino that fells a formerly successful titan.
Hammond Lumber Co., headquartered in Belgrade, Maine, has developed a reputation as being the go-to dealer for other dealers to sell their business to. Since its first acquisition in 1983, the company has slowly but surely climbed the ranks of the ProSales 100 list, culminating with the 2018 acquisition of EBS Building Supplies, which helped its annual revenue soar 54.6% to $252 million. The acquisition brought 10 locations and roughly 320 employees under the Hammond banner, and launched the company to number 25 on the 2019 ProSales 100.
To read the full story by Curtis Sprung Click Here