LMC Dealers witnessed a pivotal moment in leadership evolution at the 2023 LMC Leadership Summit, where they explored groundbreaking concepts that promise to reshape their future.
The summit, driven by LMC and the LMC 21st Century Leaders Committee was expertly steered by Kathy Pearson, President and Founder of Enterprise Learning Solutions, Inc., who illuminated the path to 'Business Excellence.'
At the forefront of this transformative journey was Dr. Angus Fletcher, an Ohio State Professor, renowned for his pioneering work in leadership development. Dr. Fletcher introduced "Simple Not Easy," a revolutionary leadership training program rooted in the wisdom of US Army Special Operations. His sessions dissected the challenges confronting leaders, offering ingenious solutions poised to revolutionize leadership standards.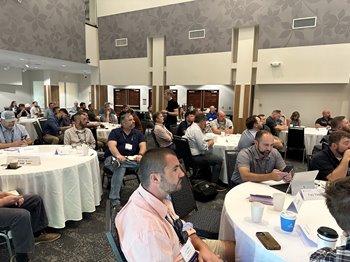 Participants were equipped with insights into the cognitive barriers that obstruct leadership success and guided towards strategies for profound improvement.
In a session that delves into the heart of organizational culture, Melissa Johnson, VP Cameron Mitchell Premier Events & Community Relations unveiled the compelling narrative of how faith in people and a culture of hospitality have propelled Cameron Mitchell Restaurants into a modern American restaurant company. This enlightening discussion explored the significance of culture as the bedrock of CMR's identity, shaping not just how they operate but also how they attract, nurture, and elevate their associates.
On the second day, Dr. Fletcher continued to empower leaders with insights into envisioning the future, team empowerment, emotional intelligence, and innovation. Attendees delved deep into the art of perceiving the future and identifying invaluable information. Dr. Fletcher unveiled techniques to sharpen foresight, enabling informed decisions and confident navigation through complex terrains. Participants left inspired and armed with practical strategies, poised to embark on an extraordinary transformation in their leadership journeys.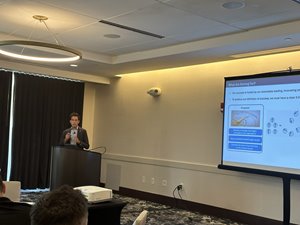 Lanny Rubin, Assistant Vice President of Technology Staff Operations at Nationwide Insurance, shared the inspiring narrative of Nationwide Insurance's successful journey in crafting and executing a strategic multi-year plan while elevating the customer experience. Lanny's session emphasized the profound importance of long-term strategic planning that aligns with your businesses vision and values. Moreover, Lanny expounded on Nationwide Insurance's commitment to enhancing the customer experience through meticulous customer journey mapping and the identification of pain points.
Kelsey Paasch, Founder of Contour Consulting, guided attendees through and exercise of thoughtfulness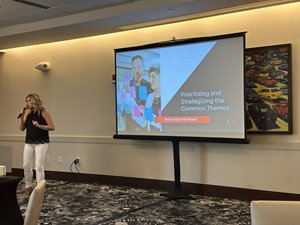 and intentionality. She illuminated the path to designing deliberate steps and routines for the journey from your current state to your desired state. Real-life examples, practical insights, and proven strategies facilitated the creation of a personalized, streamlined strategic plan.
The 2023 LMC Leadership Summit wasn't just an event; it was a catalyst for transformation, promising to redefine leadership within the LBM industry. With visionary insights, practical strategies, and an unforgettable networking experience at Pins Mechanical, attendees left Columbus inspired and equipped to pioneer a new era in leadership excellence.

This is what attendees had to say...
"The LMC Leadership Summit is an important setting for current and up-and-coming industry leaders to build relationships with one another, and to discuss innovative ways to improve our businesses in the near future." John Humphrey, North Atlantic Corporation

"The Summit was a practical source in giving me tactical ways to strengthen my leadership as
an individual and improve our team as a whole." Allison Carter, Builders Supply Company

"It truly is the event that i look forward to attending each and every year. The balance in value between the networking and the session content I feel is really unique to other events in our industry. Every year I have new connections and new takeaways that I bring back to the business!"
Kylie Holland, Curtis Lumber Company